Melanie C & Sink The Pink Join Bristol Pride Line-up.
Two become one as pop history is made. Spice Girl Melanie C will be performing at this year's Bristol Pride festival as part of a unique world-colliding live show with party makers Sink The Pink. This thrilling collaboration will debut on a tour around some of the biggest Pride events and festivals in the world, including Bristol Pride on the 13 July.
With the Spice Girls enormously-anticipated UK stadium tour this year, Melanie C is also working on brand new, completely re-energised solo material, while Sink The Pink continue to tell the next chapter of alternative UK nightlife with a mission brought together under the wider manifesto of community, equality, and change.
Melanie C & Sink The Pink are the latest names to be announced for what is already shaping up to be our biggest line up to date. Following last year's record numbers, which saw 36,000 people attend Pride Day, Pride is moving to the Downs this year, doubling their capacity and introducing new festival areas and events. We're excited to celebrate with you all.
Sophie Ellis-Bextor set to perform at Bristol Pride 2019
Sophie Ellis-Bextor shot to fame as a vocalist on Spiller's huge number one single Groovejet and then followed it up with Take Me Home and her worldwide smash hit, Murder on the Dancefloor.
Her double-platinum solo debut album, Read My Lips has sold more than 2 million copies worldwide and subsequent album releases include Shoot from the Hip (2003), Trip the Light Fantastic (2007) and Make a Scene (2011). In 2014, in a departure from her previous dance pop albums, Sophie embarked on her debut singer/songwriter album Wanderlust with Ed Harcourt at the helm to critical and commercial success: certified Gold in the UK and spending 3 weeks in the UK top 10 album chart and spawning hits such as Young Blood. 2016's Familia album saw her return to the dance floor with Come With Us.
Spring 2018 saw a release orchestrated versions of all her hits and past single releases which have come together in the release of the upcoming album The Song Diaries which will be released later this month. We are so excited to have Sophie performing at Pride this year and know we are in for a truly special show.
Following yet another year of record numbers, we've been working hard behind the scenes to ensure that all those that want to come to Pride can.
36,000 people came to Pride last year with 12,000 arriving with the parade to a site that was already filling with people. It's clear we've outgrown our previous home and we've spent many months exploring venues, listening to feedback and data. Today we are really excited to be able to announce that this year the festival will move to The Downs. The move will see the festival double in its capacity and with the increased venue size we'll be introducing exciting new areas and activities, including a new stage in partnership with national lesbian publication DIVA Magazine, as well as expanding current festival areas.
Other new additions this year will include a giant circus tent with Bassline Circus programming performances throughout the day, a wellbeing and mindfulness area, and a silent disco.2019 marks our 10th Anniversary it's been a hard road, with many political and economic changes. We're so proud of the community in Bristol for coming together year after year to make Pride the incredible success it has become. In just a few years we've become a multi-award-winning festival, one of the largest Pride events in the UK, and last year was one of only four Prides in the UK to be named in the Global Top50 of Pride festivals worldwide…Read More.
Ru Paul's Drag Race Star Peppermint joins the Bristol Pride line up
For over a decade she's dominated the New York club scene with her high-energy performance and engaging personality. Now, we are excited to announce the one and only Peppermint will be performing at this year's Bristol Pride.
Peppermint as continued to have incredible success since performing in season 9 of RuPaul's Drag Race where she was crowned first runner up. Soon after she became the first trans woman to originate a principal role on Broadway when she was cast as Pythio in the groundbreaking Broadway musical Head Over Heels. 
In the year we mark the 50th Anniversary of the Stonewall Riots we are incredibly proud to have Peppermint at Pride. More acts coming soon. 
More Acts Announced for Bristol Pride 2019
We're busy announcing more artists performing at this year's festival.
This year we celebrate our 10th Anniversary of delivering Bristol Pride and we're so excited. We're working hard to make this years event bigger (literally) and better than ever.
We'll also be announcing lots of festival news over the coming weeks including plans for our programme of events leading up to Pride Day.
As well as new artists, like Hazell Dean which we announced earlier this year, we are also welcoming back some of our favourite performers from the last 10 years back to celebrate with us.
Starting way back in 2010 with our first ever headliner Sonique. Singer, Songwriter and DJ she's had a string of top10 hits but is probably best known for the her No1 smash hit It Feels So Good. 
Next up we welcome back Saara Aalto who is currently skating around on ITV's Dancing on Ice. Saara performed with us in 2017 and then went on to represent Finland in Eurovision in 2018 as well as releasing her debut album.
We're also excited to have the incredible NINA performing with us this year. This Synthwave queen won your Best Artist award back in 2015 when she last performed with us, fresh from touring with Erasure. She released her debut album last year and we cannot wait to see what she has in-store for us this year. Until then enjoy album title track Sleepwalking.
For more acts and news on the festival this year be sure to join our mailing list.
The Home Office has a responsibility to Ken and all LGBT+ in the commonwealth.
Today we spoke to ITV News to lend our support and voice to the case of Ken from the Bristol Bisons RFC. Ken has been threatened with deportation to Kenya where as a gay man he is at risk.
In Kenya being gay is illegal and Ken could face 14 years in prison. What's more there are no anti discrimination laws and LGBT+ people often find it hard to get work, housing and even access health and education services.
Kenya is a commonwealth country and it is hangups from the colonial laws of the British Empire that mean that homosexuality is still criminalised in 37 of the 53 commonwealth countries. As such the UK has a responsibility to Ken and to the LGBT+ people in former colonial countries where our laws have made impact.
Neighbouring Uganda proposes to impose the death sentence and Tanzania has just set up a 'task force' to round up gay people. Steps backwards, not forwards, and we share concerns that this hatred and persecution will make things worse for the community in Kenya too.
Ken was released on bail yesterday – a small win – but there is still work to be done. We call on the Home Office to grant asylum to Ken and to review the process of asylum for LGBT+ people.
Ken is crowdfunding for support towards costly legal fees here: https://chuffed.org/project/fight-kens-deportation/
A petition here has been signed by an incredible 98,000 people: https://www.change.org/p/stop-the-deportation-of-ken-machar… why not add your voice.
Dates for Bristol Pride 2019 Announced
The Bristol Pride festival will again run for two weeks next year from the 1 – 14 July across Bristol.
We're busy making plans for Bristol pride 2019 but we want to ensure you get the date in the diary!
Also a big thank you to all those who have responded to our survey. We recognise that with record numbers again attending Bristol Pride this year we need to review our current location or restrict entry. We'll be working hard over the coming months to work with the local council to review our options, with 12,000 people attending the parade and 35,000 people accessing Pride Day we need to ensure we have a site that can cope with those numbers or manage entry expectations. We're on it.
In the meantime we are excited to confirm the dates for the 2019 festival, which marks our 10th anniversary will be: 1-14 July with the Pride Day Festival on Saturday 13 July.
Albert Kennedy Trust Bristol Pride Named Charity
You may have seen in our programme the fabulous The Albert Kennedy Trust is our named charity this year.
24% of young people at risk of homelessness identity as LGBT | 77% of whom have experienced abuse and rejection at home for being brave enough to come out to their families.
AKT believe no young person should have to choose between a safe home and being who they are. We are the national LGBT youth homelessness charity, focused on prevention and early action. We provide safe homes, mentoring and advocacy to young people who are homeless or living in a hostile environment after coming out to their parents, care givers or peers.
To find out more and if you want to help prevent LGBT youth homelessness, please make a donation on their website www.akt.org.uk
We will be donating at least 10% of all our super supporter wristband sales to them.
Bristol Pride Named in Global Top 50 Pride Destinations

The annual Bristol Pride festival kicks off this Friday, and the team are going into the event on a high, having just been named in the Top 50 Pride Destinations in the world.
Bristol was one of only 4 UK cities to make the Top 50, joining Brighton, Manchester and Birmingham, this is a fantastic accolade and one that the team are incredibly proud of.
The survey by HomeToGo looked at hundreds of Pride events around the world, it ranked the strong year-on-year growth of Pride festivities as well as other factors including how LGBT+ friendly the city is.
Recognised for its incredible growth in recent years, this year's Bristol Pride Festival has expanded to two weeks jam packed with events to celebrate and showcase the LGBT+ Community. Pride is creating opportunities for visibility, social cohesion and tackling issues that challenge and affect the local community.
The Festival culminates with the Pride Day event on Saturday 14 July, which will start with the city's most colourful parade march which will make its way through the city centre before heading the festival site on the harbourside. The Pride festival is now one of Bristol's biggest events drawing record numbers to the city every year and in 2017 was named in Visit Bristol's top3 reasons why people attended the city over the summer.
Over 100 artists, across 3 stages, will be performing on Pride Day this year with acts including 90's dance sensations SNAP!, Indie legends Republica, and Xfactor winner and West End stage sensation Alexandra Burke….read more.
GWR unveil rainbow train to celebrate Pride

GWR have today unveiled a rainbow detailed train to celebrate Pride. The train will be a fantastic welcome to those travelling to Bristol Pride and to other Pride events on the route from London.
As well as showcasing support to Pride and those travelling to Pride events on the route, it's a great opportunity to raise awareness of the LGBT+ community but also to showcase GWR's commitment and support to LGBT+ members of staff. Seeing visible markers of support to the community can be incredibly empowering, but it's also a chance to serve as a daily reminder to everyone the importance of equality and diversity to create a better society for all.
All stages to be BSL signed at Pride

As part of our ongoing commitment to make Pride as accessible as possible we are so pleased to announce that all 3 stages at Pride this year will be British Sign Language Interpreted.
We want to create an event that is open and welcoming to everyone and we're working hard to increase our accessibility. Other measures include the introduction of a Mobiloo accessible toilet with adult-sized changing bench and hoist onsite this year.
We are also introducing two giant screens to the festival, one by the main stage and one by the dance stage, that will be broadcasting the main stage later in the day. To ensure visibility, our main stage signers will be inset on the screens.
Click on the video to the left for more information.
With thanks to our Accessibility Partner UWE Bristol and Bristol City Council Cultural Investment Programme.
Alexandra Burke Performs at Pride

Rising to fame in series five of X Factor in 2008. she's is one of the most successful winners of the show, selling well over 4 million records in the UK alone. 'Hallelujah' holds the current European record for single sales over a 24hour period and became the top-selling single of 2008 selling over 1 million copies in the UK alone by January 2009, a first for a British female soloist.
Debut album, Overcome, debuted at number 1 in the UK charts spawning number one singles including 'Bad Boys', 'All Night Long' and 'Start Without You' and earned her three BRIT Award nominations as well as a further three top 10 hits including 'Broken Heels' and 'The Silence'.
Along with a string of chart hits Alexandra has carved an incredible musical career taking lead roles in Whitney Houston musical Bodyguard and Sister Act! so expect an incredible set.
Unite Students to be Bristol Pride 2018 Headline Sponsor
Bristol Pride are very pleased to be teaming up with Unite Students for the second year in a row, with Unite Students continuing with their Headline Sponsorship of the festival, which will be on the 14 July in Millenium Square and the Amphitheatre.
Every Year Bristol Pride attracts tens of thousands of visitors and is a beacon for diversity and the LGBT+ community, however without support the festival would not be possible. Unite Students will be attending as well on the day marching in the parade in solidarity and having a stand in Millennium Square to talk about the work they do year round.
Founded in Bristol in 1991, Unite provides a home to over 50,000 students across the UK, including around 3,500 in Bristol. Unite is also… read more 
First Plans for Pride 2018 Announced

We're excited to announce the first wave of artists and events for this year's Bristol Pride Festival which will see us expanding to a full two weeks of events across the city to celebrate Pride.

Running from the 2 – 15 July the main Pride Day event will take place on Saturday 14 July on the Bristol Harbourside, with the festival taking place across the Amphitheatre, Waterfront Square, and We The Curious' Millennium Square.

Acts announced today include Indie Britpop punk band Republica fronted by the iconic and fiery Saffron, electro-pop duo Avec Sans, dance sensation and N-Trance front singer Kelly Llorenna, Lloyd Daniels, Laurent John along with tributes to Pink and Madonna all performing on the main stage which is sponsored by headline sponsor Unite Students. Other stages at the festival include a jam-packed cabaret stage with some of the UK's top performers flocking to Bristol to perform and the Dance Performance stage featuring local and national dancers and workshops with styles ranging from hip hop, salsa to street dance…read more. 
Last year Bristol Pride couldn't have been happier to have had current West End Wicked star, Alice Fearn, perform onstage, and we flew at the chance to see the touring production as it returned to Bristol for 2018. This production of the ever-popular stage show spares no expense with a dazzling stage and spectacular numbers performed ably by the entire cast.

The show follows the early days of the Wicked Witch of the West, known here as Elphaba, as she attends Shiz University where she clashes with the Elle Woods-esque Glinda, all blonde hair and pink frills contrasting Elphaba's serious look and green skin. Soon though, the two become close friends and learn that all is not as it seems in Oz once they meet the Wizard and must overcome wicked plots and yearning hearts…read more. 
Pride 2018 Dates

Don't forget to get it in your diary now! Book that time off work and start planning those outfits.

Bristol Pride Day 2018: Saturday 14 July, Bristol Harbourside.

Pride Festival 2018: 5-15 July Across Bristol.

We again remain on the second weekend of July and will be running (a very long) week of events in the run-up to Pride Day. 
Thousands Make Bristol Pride 2017 The Biggest Yet

Thousands of joyful and proud participants made the Bristol Pride 2017 Festival the biggest and most colourful event to date. The extended weekend saw 80s icon Belinda Carlisle headline Friday night and pop-rock band Busted close the festival in spectacular fashion on Saturday. The main festival was the culmination of 11 days involving 19 events across the city celebrating Pride and championing the LGBT+ community.

Saturday 8 July saw record numbers attending Bristol Pride with many travelling from all over the country, and overseas, to join the celebrations. The day started with the parade march through the city streets with an unprecedented 7000 people taking part in the march, with hundreds more lining the streets to watch it.

The Pride Day festival again took place on the Bristol Harbourside filling the Bristol Amphitheatre, Waterfront Square and At-Bristol's Millennium Square with an atmosphere that was electric while showcasing diversity and happiness. A record 30,000 people joined in to soak up the vibrant performances, family crafts and drag queen story time, visit the bustling market and community stalls area, which had over 80 organisations represented, and of course enjoy the incredible music throughout the day.

Along with the headline acts other artists performing on the Main Stage this year included The Voice's Jordan Gray, Sonia, Jennifer Paige, Saara Aalto, Union J, Katrina of The Waves, Avec Sans, and Bristol's own Dr Meaker. Over on the Cabaret Stage over 27 of the nation's drag artists flocked to Bristol to perform including Britain's Got Talent Semi-Finalist Danny Beard, Mary Golds, the crowd surfing Drag With No Name and Ru Paul Drag Race season 9 entrant Charlie Hides… read more. 
Support Bristol Pride with the new Pride Presents: fundraising concert

Every year we work incredibly hard to make Pride happen. From events throughout the Pride Week to the big free Pride Day event we do all of it without any core funding. To help raise the vital funds to put Pride on and keep Pride happening this year we're hosting a new fundraising concert on Friday 7 July in the Bristol Amphitheatre.

Headlining this event is 80s icon Belinda Carlisle performing with her band, along with Walking on Sunshine singer and Eurovision winner: Katrina [of The Waves], and electro pop band Avec Sans.

This is a great chance to see these bands performing in the stunning Bristol Harbourside for an intimate gig, supporting Pride and ensuring Pride can continue all while enjoying a great night out. Advance tickets are just £18 (+bf where applicable).
Bristol Pride 2017 Headline Sponsor: Unite Students


Now in its seventh year, Bristol Pride is one of the largest Pride events in the UK and last year attracted over 35,000 people across Pride. This year's headline sponsor is Unite Students, the UK's largest and most established student accommodation provider.

"Unite Students proudly celebrates diversity and inclusion, so we are delighted to be part of this year's Bristol Pride" said Unite Students CEO, Richard Smith. "We believe in creating communities where students can grow, thrive and be themselves when they go to university, and so we are excited to support what the festival stands for and the excitement it brings to our vibrant and colourful city."

Founded in Bristol in 1991, Unite provides a home to over 50,000 students across the UK, including around 3,500 in Bristol. Unite is also the founder and major donor of the Unite Foundation and since 2012 this has provided free student accommodation and financial support to 160 young people in the UK who lack family support.
BUSTED Headline Bristol Pride Day


Pop Rock band Busted will headline this year's Bristol Pride Festival which takes place on the Bristol Amphitheatre and At-Bristol's Millennium Square on Saturday 8 July. The band, comprised of James Bourne, Matt Willis and Charlie Simpson who have reunited for new music and a festival tour, will be closing the Pride festival weekend.

Amassing an incredible 8 UK top 3 hits and 4 number 1's including 'What I Go To School For', 'Year 3000', 'Crashed The Wedding' and 'Air Hostess' Busted have sold over 5 million albums worldwide, won 2 Brit Awards and in 2004 were awarded Record of The Year.

Other acts performing on Pride Day include, Xfactor's Saara Aalto, 80s artist Sonia, boyband Union J, Voice UK finalist Jordan Gray and Charlie Hides who currently competing on Season 9 of international hit TV show Ru Paul's Drag Race.

Welsh singer Charlotte Church brings her Late Night Pop Dungeon to the Pride afterparty along with DJ's Horse Meat Disco and local favourites Don't Tell Your Mother. Click here for our full press release…
Belinda Carlisle headlines new Friday Pride event.

To help fundraise to support us to keep delivering a fantastic Pride event and one that is open and accessible to all regardless of economic background we introduce Bristol Pride Presents:

This new event will take place on the Friday night ahead of Pride Day and American pop sensation Belinda Carlisle will headline the 2017 event. She has sold over 90 million records worldwide to date with a career spanning 3 decades  and 2017 celebrates 30 years since the release of her triple platinum album, Heaven On Earth, which featured hits such as Circle In The Sand, I Get Weak and the anthemic Heaven Is a Place on Earth.

She will be joined by Katrina the lead singer from the grammy nominated band Katrina and The Waves. Walking on Sunshine' was a worldwide success and of course represented the UK and won Eurovision with Love Shine A Light.


We are also excited to have duo Avec Sans who make dreamy electronic pop music perform on the night. They supported Ladyhawke on her 2016 UK tour and have played alongside acts such as Little Boots, Capital Cities, Bright Light Bright Light and The Pet Shop Boys.

Early Bird Tickets are just £15+bf but are limited so be quick. 
Saara Aalto and Charlie Hides Announced for Bristol Pride


We've announced two artists for Bristol Pride already and there are many many more to come.

Saara Aalto is the enchanting singer-songwriter and finalist in the UK Xfactor 2016, Finland's Got Talent and The Voice of Finland, has melted hearts with her virtuosic singing and magnificent interpretations. An absolute talent and we are very excited to have her join us in Bristol.

Charlie Hides needs no introduction! Known for her celebrity impersonations, Youtube Channel and this year a Ru Paul's Drag Race Season 9 contestant. She's an absolute super star on the drag circuit and this will be her first time at Bristol Pride – about time too.

Our event page is up  Bristol Pride Day 2017 | Saturday 8 July! so get joining and sharing! 
Charlotte Church's Late Night Pop Dungeon


We are excited to have the incredible Charlotte Church performing live at Pride bringing the Late Night Pop Dungeon to the Official Bristol Pride Afterparty!

Down the dark, dark stairs, upon the bloody gallows of soft rock, through the oubliette of cheese, into the torture chamber of disco, you are welcomed to the Late Night Pop Dungeon.

The Grand High Executionatrix, dungeon mistress Charlotte Church, will give her MK Ultra treatment to the greatest tunes that time forgot, and some that will forever haunt our collective memory. Bring dancing shoes – the floor is on fire. Expect covers of Britney, Bowie, Beyonce , En Vogue, Missy Elliot and more.

She'll be performing live at the Pride Afterparty in the O2 Academy along with DJ's Horse Meat Disco so come and join the REVOLUTION on Pride Night. 
Pride Day 2017 Plans Announced

We've been busy working behind the scenes for some time, making plans for the festival and of course contacting artists and performers.

We're please to announce the dates for Bristol Pride 2017 which will run from the 30 June to the 9 July. Pride day will take place on Saturday 8 July and we are excited to say that we will also be introducing a new Friday Night concert with Bristol Pride Presents:, more details to come! 



Why community is at our heart.


Pride has evolved over time, we started as a protest but we do enjoy better rights and equality now but it is clear there is still work to be done. In some ways Pride has never been more relevant, given recent times, as we see countries revoke the rights that have been hard fought or simply look at the increasing rates of Hate Crime and Orlando. That's why the Bristol Pride's Community Area, sponsored by UWE Bristol, is so important to us. It is the beating heart of Pride because this is where you will find all the organisations that are there to support you all year round. This year we have more than ever attending Pride with over 60 organisations ranging from local support groups to international charities and Pride supporters and partners. They all aim to show you their support to the LGBT+ community and get you involved in the fantastic work they do all year round. This is just a small look at a few of our stalls, for a full list of organisations please visit the Community Area Page:

Micro-Rainbow: An international NGO tackling poverty of LGBTI people worldwide. They will be at Pride proclaiming loudly that Bristol welcomes refugees and supports all people.

Diversity Role Models: Diversity Role Models actively seeks to prevent homophobic and transphobic bullying in UK schools. They stop bullying before it happens by educating young people about difference, challenging stereotypes and addressing the misuse of language.

St Mungo's: National Homelessness support charity St Mungo's vision is that everyone has a place to call home and can fulfil their hopes and ambitions. With partner organisations One25 and ACE also attending Bristol Pride find them all in the Community Tent.

Bivisible: Bivisible Bristol is an informal group/network for anyone who has ever fancied more than one gender. You can be bisexual, biromantic, bicurious or bifurious! As well as pansexual, omnisexual, fluid, queer, or 'just yourself'.

Avon Wildlife Trust: A returning favourite at Pride,  the largest local charity working to protect wildlife in the West of England area and always marching in the parade with some furry friends! This year find them at their stall making "wildflowers" for their latest big project.
Why pride is so much more than just a party.
Daryn writes for Gay Star News.

Writing a piece about why Pride is still needed is a bit odd as the organiser of a Pride event, it's probably a given that you will always get a passionate 'of course it is'. When you are living and breathing Pride and seeing every day the fight for our community, be that cuts to services in these times of austerity or simply yet another incident of hate crime, it's simple: Pride is still needed because it is, but of course there is much more to it.

Occasionally when we start to announce the plans for Bristol Pride we see flippant comments such as 'when will there be a straight Pride' or the slightly more veiled comments where someone has 'nothing against the gays' but would rather we kept ourselves locked in our bedrooms. You teach yourself to ignore the comments threads of some outlets but even this is a reminder of why Pride is still needed.

Let's face it, Pride events mean something different to everyone. For some Pride is still a protest, some who just love the cabaret or want to see the headliner, for some it's a great weekend with your mates. Some go so they can simply support it and perhaps remember those they have lost and some who don't go because they feel they don't need it. Being an organiser of Pride you soon learn you can't please everyone but the most important thing is that the event happens and for me, that it is an event true to its roots. We are a little different here in Bristol, we don't get core funding to happen so we, like others, do rely on our festival partners to help make Pride happen in an age where even the parade costs us money to put on. Bristol Pride remains a free festival so that no one is excluded for socio-economic reasons and that we can reach out to wider communities…read more. 



 Photo: Colin Moody

Thousands gather to remember Orlando
On Tuesday 14 June thousands gathered, from all walks of life, on College Green to hold a vigil for those who were murdered and injured in Orlando at the weekend. The worst mass shooting in American History took place in gay nightclub Pulse.

Speakers included Mayor Marvin Rees, Avon and Somerset Police Chief Constable, leaders from the Muslim Community, The Dean of Bristol Cathedral and organisers from Bristol Hate Crime Services, Out Bristol, and The Diversity Trust who all joined us on stage. We also had tear jerking performance from Sing Out Bristol. All the speeches are available to listen to online now via Shout Out Radio and BBC Radio Bristol live streamed HERE. We also made 100's of rainbow ribbons for donations and organised a raffle (thanks to Six O'clock Gin for their donations.) and raised £1156.41 for Equality Florida (you can donate online).

Daryn Carter, Director of Bristol Pride said:
"I am shocked and saddened by what has happened in Orlando to the Latinx and LGBT+ community. It must be recognised that this was a targeted attack against the LGBT+ community.

But I am also angry. I am angry because after decades of being treated like second class citizens it finally felt like things were getting better.

If you think that the LGBT+ community, scene or that Pride is not important then this is why. I want as many of you as you can to join the Pride parade this year and come to pride, be loud & be proud. We will not live in fear and be forced back into the closet. We owe it to all those who have come before us and for all those who will come after us. We mourn the dead but we must fight like hell for living."
Solidarity Vigil for LGBT+ Orlando, College Green, 6pm.
On Tuesday 14 June we will be holding a vigil on College Green in conjunction with Bristol LGBT+ scene venues, groups and Bristol Hate Crime Services. The event is in solidarity with the victims of the mass shooting that took place in Orlando at the weekend.

Speakers include the Mayor of Bristol, Avon and Somerset Police, leaders from the local Muslim community, and other LGBT Organisations who are all joining us to show solidarity. After the event the Queenshilling will be open for free tea/coffee and hugs (no alcohol will be served a this time) and other scene venues will open too. Running order:

6.30 pm Mayor of Bristol Marvin Rees – opening address

Followed by speeches from: Chief Constable Andy Marsh, Daryn Carter, Director of Bristol Pride, Muslim Community Leader, Alex Raikes MBE, Director Bristol Hate Crime Services

6.45 pm – Sing Out Bristol Choir

7 pm: Short speeches from Peter Main (former Lord Mayor of Bristol), Leighton Deburca, Director of Out Bristol, Berkeley Wilde, Chair of LGBT Bristol & Director of the Diversity Trust and Cheryl Morgan, Ujima Radio / Outstories.

7.15 pm – Kelly Surretti from Weston Super Mare – singer

For those who want to – candles to be lit and put out in Bristol Cathedral

There will be a fundraiser for Orlando victims, why not make a donation for one of our rainbow ribbons and any organisations that would like to donate rewards can email:

info@bristolpride.co.uk 
Final plans for Bristol Pride 2016 released

The full line-up for the 2016 Bristol Pride Festival is here. We've been dropping bits of information but here is what you've been waiting for for the festival, now in its 7 year which takes place from 1 – 10 July with a series of events to showcase and celebrate LGBT+ culture and community.

Pride Day takes place on Saturday the 9 July and sees the music and arts festival moving to a new larger home taking over both the Bristol Amphitheatre and At-Bristol's Millennium Square. Pride Day remains a (suggested £3) donation entry event and features bustling local food and market zones, onsite bars, community area for services and groups, cabaret stage featuring over 20 of the countries best acts. The new space also means a new dedicated Dance Performance Stage featuring everything from street and contemporary dance to circus skills and Zumba classes.

Over 50 local and international acts are performing this year across 3 stages. Main Stage acts include Robert Plant support act Wildflowers, all female Duran Duran covers band Joanne Joanne, singer of the anthemic Everbody's Free (to feel good) Rozalla, fan favourite Lucy Spraggan, The Voice's Tom Rickels, A*M*E, dance pop sensation Little Boots and will be headlined by multiple Brits, Ivor Novello and World Music Award winner Lisa Stansfield.

We've again teamed up with a number of partners to offer you a £5 festival wristband to help support the costs of the event and keep Pride happening. Wristbands offer discounts onsite including on food and the bars, discount entry to the At-Bristol science museum, discounted Ferry travel and free travel on Pride Day with First Bus. Joint evening tickets are available for £15 which offers entry into 3 separate afterparties including the O2 Academy, Queenshilling and Hush at Basement 45.
Pride put a spotlight on Hate Crime in the city.

Today we launched a citywide Hate Crime campaign to raise awareness, increase reporting and to tackle the number of incidents taking place. We were joined by members of Shout Out Radio, LGBT Bristol, Bristol Mayor George Ferguson and members from Bristol Hate Crime Services who have supported us in making this happen.

The project, made possible by funding from the Avon and Somerset Police Crime Commissioners Community Action Fund, aims to tackle Hate Crime in Bristol with a series of street stencils supported with poster and social media outreach.

We want to raise awareness of LGBT+ (Lesbian, Gay, Bisexual and Transgender) and Race related Hate Crime incidents that have taken place across the city and to make people stop and think about what Hate Crime is and the importance of reporting it.

Hate Crime is motivated by prejudice against a person because of their: ethnicity or race, disability (including mental health & learning difficulties), sexual orientation, gender identity, religion or belief, age, gender, marital or pregnancy status.

A Hate Crime can take many forms including physical attacks such as hitting someone, name calling or verbal abuse, or even bad gestures. It can include threats, harassment, intimidation or humiliation. In some cases, it involves vandalism or damage to someone's property, nasty letters or graffiti and increasingly in our digital age: abusive emails, cyber-bullying and trolling.
Bristol Pride On The Move

Pride will be moving to a new city centre site for 2016! Taking place on Saturday 9 July the Pride Day Festival will be held on the iconic Bristol Amphitheatre and atBristol's Millennium Square, in partnership with the science centre and will be the culmination of 10 days of events across Bristol.

Last year we were one of the largest festivals to take place in the city and the move is needed to give us a larger space for the festival activities and ensure those wishing to show their support for equality and diversity are able to attend and enjoy the fantastic day of live music, cabaret, dancers, family activities and community stalls along with bustling market and food traders. We're expecting another busy year and have taken the decision to move the festival to increase capacity and the fact we are faced with continued council development and space restrictions in Castle Park. A move also means we can improve disabled access to the festival and more dedicated spaces.

Headlined by Heather Small in 2015 we will be announcing our 2016 acts over the next few days and weeks so be sure to join our Facebook Event and like our Page. The First acts announced for 2016 include Singer of the anthemic Everybody's Free (To Feel Good) Rozalla, Pop and Folk favourite Lucy Spraggan, female duo DeltAmour and the formidable A*M*E. More to come…

The Pride Festival runs from the 1 to 10 July across the city and will again be a fantastic showcase of community and talent. Events include comedy, theatre and gaming events as well as an ever popular Dog Show and their annual Queer Vision Film Festival at the Watershed, hailed by The Guardian as one of the best in the country.

Pride Day will remain donation entry but we call on everyone who can to get a £5 supporter wristband to help support the event to happen. Wristbands offer festival discounts including money off food outlets, bars, discounted ferry travel and free travel on Pride Day with First Buses. Joint Day & Night tickets are available for £15 which includes entry to 3 afterparties including the official Pride Afterparty at the O2 Academy featuring top international and local DJs as well as special very special dance performances and artists.
photo credits: Destination Bristol and Bristol City Council



Council votes to award Pride 10K in budget amendment

Bristol Labour Party yesterday put forward a budget amendment for the council to support Pride with £10K. Councillors then voted on the motion which had the full support of Labour, The Green Party and The Liberal Democrats who all expressed their support for Pride and the work we do in the city.

It is fantastic to have councillors recognise the importance of Pride and the team is really pleased with the result. Bristol Pride is a major event for the city but last year we were only given £1000 funding until Mayor George Ferguson kindly stepped in with an additional £5000, meaning funding will increase by £4000 on last year. This represents about 10% of the actual costs of putting Pride on but funding like this is essential, especially with upfront costs such as council site fees and licences which last year cost us over £2500 and are set to increase to over £3500 for 2016.

Our thanks to the Labour councillors who put the amendment forward and especially to Councillor Ollie Mead who spoke passionately about his own experiences growing up being LGBT+ as well as other councillors who took to social media to express how much they wished there had been a Pride in the city when they were growing up.

As well as recognising the work the Pride Festival does in bringing communities together (the 'social cohesion' buzzword) and the impact we have on wellbeing and mental health in the city, Cllr Mark Bradshaw of Labour stood and recognised the fantastic economic impact we have the city – Pride brings over £900,000 to the city economy and of course is helping put Bristol on the map nationally; Pride is a genuine asset to the city.

Cllr Simon Cook, Lib Dem and Assistant Mayor, took the floor to also announce his party's backing and to commend Bristol Pride for the work it does in the city; he also noted Pride's economic impact to the city is up there with the Harbour Festival. Cllr Cook did however raise a point that Pride fully supports: the need for a festival fund for the city.

We didn't push for this budget amendment but we do need and feel, given what and how much the councils supports other similar events, that Pride needs funding and there should be a better process and the money available for us, and others, to apply for.



Energy Revolution to turn 1.7 million Travel Miles into Renewable Energy in it's first year.

While global leaders meet at COP21 in Paris, eleven pioneering UK festivals and their festivalgoers are taking action of their own. They're part of groundbreaking festival initiative Energy Revolution, which will turn almost 1.7 million festival travel miles into clean energy in its first year.

By crowdsourcing donations with ticket sales and investing in renewable energy projects, the initiative turns fossil-­‐fuel travel miles from festival-­‐goers into a world-­‐changing investment. In the project's first year it has raised more than £8,500 in crowd-­‐sourced donations, which will be invested in two wind turbines in Tamil Nadu. Because of India's coal-­‐based fuel mix and the complementary activities of our investment charity Converging World, investing in renewables has approximately twice the impact on carbon emissions compared with investing it here in the UK.

Energy Revolution is currently working with eleven UK festivals to turn their travel miles into clean energy. Festivals that are currently members of the initiative include Bestival, Camp Bestival, Standon Calling, Boomtown, Kendal Calling, Secret Garden Party, Starry Skies, Shambala Festival, Love Saves The Day, Bristol Pride and Just So Festival. Read More…
Bristol Businesses and community gather together to celebrate

Bristol businesses and members of the community gathered this weekend to celebrate the inaugural Bristol Pride Gala Ball which took place in the Marriott Royal Hotel on Saturday 31 October.

The event aimed to bring the community together with businesses doing great work in the city for their LGBT+ staff, clients, visitors and the wider community and celebrate success with the first ever Bristol Pride Awards. Both Mayor of Bristol, George Ferguson and The Right Honorable Lord Mayor of Bristol, Clare Campion-Smith attended the event and presented awards.

The night saw a Halloween themed spectacle with jugglers, acrobatic performances and magicians ahead of a sumptuous 3 course dinner and masquerade after party. The highlight of the night however were the Pride Awards which had been nominated by members of the public. Mayor of Bristol, George Ferguson praised the hard work being done in the city for the LGBT community whilst presenting the award for Best Employer which was won by The Watershed whilst The Lord Mayor presented the award for Most Friendly LGBT+ Visitor Attraction which was awarded to science centre atBristol.
Bristol Pride urge Bath Magistrates to see sense

We're calling on Bath Magistrates to see sense and review the placement of a Trans women from Bath to a male prison in Bristol.

Tara Hudson from Bath was sentenced to serve 13 weeks in a Bristol male prison last Friday after pleading guilty to assault. We don't know all the details and history of this case which is obviously a sensitive case but what we do know is that whilst Tara was assigned male at birth she is living, and has lived her adult life, as a women. She has undergone several chest reconstruction surgeries and takes regular hormone injections. There has been no statement as yet to even tell us if Tara will be treated as a women in a male prison and separated.

An online petition was launched by Bath's Gender Equality Network and has already received over 5000 signatures in less than 14 hours including Green Party Leader Natalie Bennett.

The Petition can be signed HERE



Run With Pride!

We're entering a team into the Bristol 10K after a few people got in touch asking about running for us so we thought go on, let's do it…and we want you to join us!

Run to fundraise, run as a challenge, run to reclaim the streets, run to be fit, run to make new friends, run to tell homophobia and transphobia to jog on…run to be proud!

The Bristol 10k is a great event, a fantastic crowd will cheer you on, you get to see the wonderful sights of Bristol and you don't need to be mega fit to do it! It's on 31 May 2015 – we'll provide support with a team to run with you, joint training sessions if you'd like, lots of motivation and even an after party event!

You'll need to register yourself and we are entering with a time of 55-60 minutes as there are time blocks but if you want to run – get in touch by emailing info@wearefest.com
Bristol Pride 2015 to be the biggest and greenest event yet
Proud to be gay and green!

Bristol Pride 2015 promises to be a very special event this year as we work towards supporting EU Green Capital and celebrating being the first ever UK Green Capital Pride. A number of initiatives and events are planned to celebrate being gay and green including making Pride Day a generator free festival. Last year over 30,000 people attended Bristol Pride and it remains the largest free Pride Festival in the UK and is a bold celebration of the whole LGBT community.

The week-long festival runs from the 4-12 July and will see a diverse range of events take place all over the city including a comedy night, theatre with curated performances, LGBT history night and following the success last year, the return of the Pride dog show. The week is also home to the Bristol Pride Film Festival featuring a week of specially selected and award winning LGBT films hosted at the Watershed.



Record Numbers Expected at Pride 2014 | Sat 12 July, Castle Park

Record numbers are expected at this year's Bristol Pride Festival which takes place on Saturday 12 July in Castle Park. Main stage features a double headliner with 90s dance sensation, and Rhythm of The Night singer, Corona and The Big Reunion Boyband A1. Still just donation entry festival will feature 46 acts across 9 hours including urban act VOIS, electro girl band Love Beats Riot, Katherine Ellis, The Showbears (Britain's Got Talent), Kate Bush tribute Cloudbusting, Dr Meaker, Denise Pearson from Five Star and international artists Iskwé and Hi Fashion. A second stage hosts 20 Cabaret acts including burlesque, pole dancing, drag kings and queens from all over the UK including award winners such as Son Ofa Tutu, Drag With No Name and Baga Chipz, the Cabaret Stage will be headlined by singer Kelly Wilde.

Pride Day starts with the Pride Parade, departing Queens Square at 11am and the park festival will feature 3 stages of entertainment, family area with kite making classes and activities from atBristol and Bristol Zoo, funfair, market and expo stalls, food and bars, onsite roller disco and a community area hosting over 60 organisations ranging from health services, charities and sports groups.
A Call To Action from Pride

So we just found out that sadly after weeks of work putting together our funding bid the council has not recommended Pride get ANY key arts provider funding for 2015-2018, despite putting on 17 cultural and challenging events across Pride Week each year….. What this actually means is that we do not do cultural events in the week and events that raise awareness of issues in the community AND that this could be the last free to enter Pride festival UNLESS you support us.

Last year we got less than 20p pp in donations and pride costs over £100,000 to put on with costs increasing year on year.

Please make sure you donate on the day (suggested donation £3) or better yet get a Pride Supporter Wristband, and get one NOW. They're only £5 for the day and get you discounts onsite including the bars and food, you easily make your money back with a few drinks, whilst enjoying 46 acts over 10 hours of live entertainment. £15 wristbands include the afterparty headlined by the Freemasons and all the money from Pride Night goes straight into keeping Pride Day free.

If we did charge for Pride the additional costs of doing so would mean tickets would be over £10. So it is a simple choice to support us in keeping Pride free so that those who might not be able to afford a c£10-17 ticket can still come and benefit from Pride. We were voted No2 Best Pride in UK last year and we want to continue to grow, raising awareness for the community in Bristol, raising the

Thanks guys!
(a deflated) Pride Team



Castle Park Update & Our NEW Pride Mobile App

You may have noticed we've not said much about Castle Park as yet and by this time last year we had released our programme…. well here's why!

Many in Bristol will know Castle Park has suffered damage following the Love Saves The Day Festival, made worse by event contractor lorries driving over the ground. As a result we've been working with the council to review the site and check the feasibility for Pride to use it. We hope so! It's been our home since 2010 but we need a site fit for purpose, the ground has started to recover but some of it is will be unusable, we don't want to make things worse! Pride has always carefully considered the site to ensure no damage and we want to stay in Castle Park for years to come. There's a lot to consider, most of the site that we want to use is fine, but some is not and we already know if we do stay there's compromises and a loss of earnings to Pride which is a concern.

We didn't want to send our programme to print if we were going to be asked to move site (yet more costs) so please bear with us, we'll keep you posted and in the meantime you can download our new Pride Mobile App. Click here from your mobile or simply search Bristol Pride in the Apple Store or Google Play! The app costs just 99p (all the money after the app stores cut goes to Pride!) and contains all the events for Pride Week and will be the ONLY place to get stage timings this year.
 UKs No2 Best Pride just a month away

The Bristol Pride Festival, named No2 'Best Pride In The UK' (Cooperative Respect Awards) is just 1 months away! One of the largest Pride events in the country it returns to Bristol for a weeklong celebration this summer. The Festival running from the 5-13 July will showcase a diverse range of events including: comedy, sports, dog show, workplace conference with LGB charity Stonewall, the award winning Confessions of a Rabbi's Daughter and even an all-female Shakespeare performance in Windmill Hill City Farm. Pride Week also hosts the Bristol Pride Film Festival at The Watershed with specially selected, and award winning films including G.B.F – Gay Best Friend, short film Language of Love and the multi award winning Who's Afraid Of Vagina Wolf?, the story of a filmmaker who decides to make an all-female version of, "Who's Afraid of Virginia Woolf?

The week culminates in a massive outdoor music and arts festival which takes place in Castle Park on Saturday 12 July. Kicking off with the Pride Parade through the city, the festival will feature 2 stages of entertainment, family area with kite making classes from Bristol Kite Festival, funfair, market and expo stalls, food and bars, roller disco with Bristol Bump and a community area hosting over 60 organisations ranging from health services, charities and sports groups.

Entry to Pride Day will be by donation (£3 suggested) but Pride are offering £5 Day wristband or Day and Night pass for £15 that will offer discounts onsite including food stalls, reduced bar prices and skate hire as well as offers with other Bristol businesses keen to support Pride. Read more including acts playing….

All events for the week are listed on the Bristol Pride Facebook EVENTS page
 PACE named as Bristol Pride Charity for 2014

Bristol Pride have chosen PACE Health as their named charity for the 2014 festival. PACE has been inspiring better LGBT mental health for three decades through provision of counselling, advocacy and support for lesbians, gay men, bisexuals and trans* people experiencing mental health problems.

As well as face to face services in London, N7, and virtual support across the UK via www.pacehealth.org.uk they also have a research project and a unique charter mark scheme to help mainstream relationship providers become more LGBT-friendly.

Bristol Pride are keen to help to raise awareness of PACE and its work within the LGBT community and to encourage an openness and willingness to talk about the mental health issues that affect LGBT communities.

Many gay people have experienced a range of issues that can affect mental wellbeing including: hostility or rejection from family and friends; bullying, both at school and the workplace; the danger of violence in public spaces or casual homophobic comments on a daily basis….read more.
Bristol Pride unveils plans for 2014 festival.

The 2014 festival will see a week of events take place all over Bristol from the 5 – 12 July and will see a diverse range of events including a comedy night, sports fun day, dog show, Stonewall conference and theatre night featuring specially curated performances from Bierkeller Theatre and the award winning Confessions Of A Rabbi's Daughter.

Pride week is also host to the Bristol Pride film festival at the Watershed and will feature specially selected, and award winning, films. 

 
The week culminates in a massive outdoor music and arts festival which takes place in Castle Park on Saturday 12 July. Kicking off with the Pride Parade through the city the festival will feature 2 stages of entertainment, family area with kite making classes from Bristol Kite Festival, funfair, market and expo stalls, food and bars, roller disco with Bristol Bump and a Community Area hosting over 60 organisations ranging from health services, charities and sports groups.

Entry to Pride Day will be by donation (£3 suggested) but Pride are offering £5 Day wristband or Day and Night pass for £15 that will offer discounts onsite including food stalls, reduced bar prices and skate hire as well as offers with other Bristol businesses keen to support Pride….read more including acts already announced
Bristol Lord Mayor candidate withdraws as all other parties now refuse to support his nomination.
The controversial Lord Mayor nominee today withdrew his nomination as it emerged that Labour, the only party who had supported his nomination withdrew this support. In a statement their Chief Whip stated ''We had initially believed that Cllr Windows had genuinely learned after his offensive comments in the Council Chamber, but regrettably this does not seem to have been the case."
In a statement to the press the councillor accused those who raised concerns about the homophobic nature of his comments, and if he should hold such a role in the city, of slander.
Pride Director Daryn Carter released this statement:
"We are humbled to see that Councillor Chris Windows has listened to the people of Bristol and taken the decision to withdraw his nomination for Lord Mayor.  Many people share my concerns over the homophobic nature of his public comments and his continued insistence that homophobic bullying should not be addressed in schools. 
It is disappointing that the councillor sees these concerns as slander and has yet again failed to take the opportunity to apologise for what he has said. I have never called him a homophobe or engaged in personal attacks, but his comments – on the record for all to hear – were homophobic." see the full statement here
Sign the petition to force debate over next Lord Mayor of Bristol

Councillor Chris Windows has been nominated and backed by labour to be the next Lord Mayor of Bristol.
Councillor Windows made absurd and homophobic comments after Stonewall and Sir Ian Mckellen visited schools to talk about homophobic bullying. He also made comments that suggest he does not support Pride.
He has ignored repeated messages from the LGBT community including us, and other members of the conservative party have made rude and dismissive comments about the issue. We (FINALLY) have managed to get the council to agree this petition but we need 3500 signatures to force the debate on the issue (by the end of April)
Listen to his comments HERE and PLEASE sign the petition HERE
(http://epetitions.bristol.gov.uk/epetition_core/view/chriswindows)
Join and Share! Facebook events created for Pride Day and 2014 Pride March – We Are:One
We've created facebook events for Pride Day and the Parade March which is themed as We Are: One to help make a stand for global LGB&T equality – we want as many people as possible to help make a stand so please join and share the events – marketing costs a lot of money so please help us out!
Pride Day acts will also be exclusively announced first on the event page…
Bristol Businesses make a stand for LGBT Equality.

Members from the Bristol Pride team visited Bristol businesses that are taking a stand for LGBT Equality this weekend to showcase their commitment and support.
Lush Bristol have launched a #signoflove campaign whilst Brewdog has launched a special 'Protest Beer' My Name is…Vladimir #notforgays….read more
Vote for Bristol Pride and Daryn Carter in ShoutOut Awards
We've been nominated for Best All Round LGBT event and our very own Daryn Carter has been nominated for Local Hero! With national voting we are very proud of both our nominations and if you would be so kind would love your final vote to win! Click here to vote
We've been working very hard on Pride and kept it going and grown it into something truly special when the commercial interests of others put it at risk. Find out more about what we do and why we think you should vote right here…
Win tickets to Blue in Concert + Meet and Greet with the band!
Yes you can win tickets to see Blue in concert when they return to Bristol following their amazing performance at Bristol Pride 2013. PLUS you get to meet the band! We're running a silent auction for the tickets to raise money for Pride and for the Bristol THT. You have two chances to win!
To enter and find out more click here….
Standing room only as Bristol Pride packs out comedy night.
We started the morning early with a slot on Ujima/BCFM Breakfast Show and then darted up to UWE, proud sponsor of Pride but also host to a fantastic Conference on LGBT issues for young people complete with speakers and workshops for the many that attended. A few more interviews and then our AMAZING comedy night. We've been bigging it up and it didn't disappoint. Our 4 amazing guests, David Morgan, Lee Peart, Lara A King and headliner Suzi Ruffell had us all in stitches. We were packed! Standing room only for the Pride team and late comers but what a night!! Again a big thank you to everyone who came and all the acts, which all waived their fees, to make this a fantastic fundraiser for the free Pride Day event. Now we look forward to the amazing talents of Tom Marshman and The Black Issue, 730pm, The Cube which features special performances and screening of Paris Is Burning, a bargain at just £5 which goes towards Pride or at 8pm Indigo & Members throw a Pride Week Party at the Mauretania, usual Indigo charge of £5 applies but you get free glass of prosecco on arrival (before 10pm) and a member of the Pride team will be on hand for donations and with Pride tickets.
Mamma Mia! Raises Roof As BYlaw Discuss The Pink Ceiling
Pride Week continued in style with two packed out events: BYlaw hosted a fantastic event discussing equality and diversity in the professions and we took over the Showcase Cinema de Lux for a sing along screening of Mamma Mia! We all joined in and we were even dancing in the aisles with Bristol Pride supporter and Screenplay writer Catherine Johnson who joined us for the night and stayed on in the Directors Lounge to answer questions, talk candidly about her experiences and upcoming projects……..! We had a fantastic night and big thank you to everyone, and Catherine for joining us. SO tomorrow! BYlaw join us again for a rather special screening as part of the Pride Film Festival at the Watershed with I DO which steps right into the heart of the marriage equality debate and they host a panel discussion after the film. Lastly, don't forget to get those tickets for Wednesday's Pride Comedy Night at The Lanes with Suzi Ruffell, Lara A King, David Morgan and Lee Peart. What a line up.
Saturday Pride Launch Day, Lots of fun in the sun!
As we write this we are busy with bits of fruit, music, cocktails and inflatable bananas getting ready for our launch Party at the queenshilling! But today has been a great day for Pride with 1000's of people coming to speak to us and take information at St Paul's carnival including Mayor Ferguson, a fantastic screening of Les Invisibles at the watershed as part of the Pride Film Festival and James Wharton coming to Bristol to sign copies of Out In The Army at the Pride Hub in Cabot Circus. Tomorrow we have the Pride Sports Day at Castle Park from 11am including Pride Ride, Lunch at the OMT with the meet the teams event afterwards, Pride quiz at the OMT 6pm as well as Margarita film screening (Watershed) and the Retreat Pride Cabaret later. Another BUSY day!
Pride Week Has Started
Bristol Pride week has kicked off in style with an hilarious screening of B-Movie spoof codependant Lesbian Space Aliens Seeks Same complete with alien comedy sketch. We had a great time and laughed throughout and was the perfect start to the 2013 festival which is all about fun this year. The films continue all week with our specially selected LGBT film festival at Watershed with Les Invisibles on Sat 6, 3pm and Margarita on Sunday 7th, 6pm.
Saturday also sees ex military, and Author of Out In The Army, James Wharton visit the Pride Hub in Cabot Circus for a Book Signing at 2pm, The Pride team will be in Portland Square for St Paul's Carnival and Pride week launch party in the Queenshilling. Read more….
Sophie Ellis-Bextor & Blue headline free Bristol Pride festival
Sophie Ellis-Bextor and boy band Blue have been announced to headline the free Bristol Pride festival which takes place on Saturday 13 July in Castle Park.
The boys from Blue, one of the most successful British acts of the last decade, will headline the afternoon whilst multi-platinum disco pop sensation Sophie Ellis-Bextor will be closing the show in the evening. Pride Day features 3 stages, family area, funfair, market and food traders, community zone and even a Pride hot air balloon. Over 40 acts will be performing including XFactor's Ruth Lorenzo, Ronika, Wildflowers, Bashema, local rock band Beyond Recall and Little Boots who will headline the Pride afterparty being held in the O2 Academy. read more…
Pride Week Plans Revealed
Bristol Pride 'week' 2013 will run from the 5– 14 July and will see events ranging from film, sports, talks, theatre, comedy and performance to showcase LGBT performers, groups and causes in venues across the city.
As well as an LGBT film festival at Watershed with a selection of other films from the heart-warming, heart-breaking and down-right hilarious other highlights of the week include a special sing a long screening of Mamma Mia! with Screenplay Writer Catherine Johnson, a spectacular comedy night with performances from Suzi Ruffell, Lara A King, David Morgan and Lee Peart and read more…
Albert Kennedy Trust Named as 2013 Charity
The Albert Kennedy Trust (AKT) has been named the chosen charity for the 2013 festival after a series of nominations. Bristol Pride are keen to support AKT, their work and the worrying reports on the lack of support and awareness of the LGBT youth homelessness crises.
As well as helping raise awareness of the work that the trust is doing in the area, Pride hope to showcase regional delivery partners and to provide increased opportunities to access to services for LGBT young people. We'll also be lobbying local service providers and commissioning bodies on these issues and ensuring they know that many young people will not use mainstream provisions for fear of homophobia and transphobia from other service users or even the service itself. read more...

Bristol Pride Unveil Castle Park Plans
Pride Day [Sat 13 July] will once see a free outdoor cultural music and arts festival take place in Castle Park, as a culmination to a week of events across Bristol that will also see a theatre, a film festival at the Watershed and a sing along Mamma Mia screening in the Showcase Cinema de Lux.
Over 20,000 people attended Bristol Pride 2012 attracting supporters and party goers from all over the UK and winning a string of awards including: 'Best Community Event' voted for by BCFM ShoutOut radio listeners and 'Runner Up Best UK Pride' in the National Student Pride Awards.
The day will also feature a Family Area, Community Zone, Food & Market Stalls, Cabaret Stage and a special Performance Tent  read more….
Bristol Pride Open Cabot Circus Pop Up Shop
We Are opening a special 'Pop Up' shop in Cabot Circus. Located on the 1st Floor near Starbucks the shop is open from the 15 – 28 February  and is you chance to meet the team and find out more about Bristol Pride 2013.
As well as special drop in sessions, tea and coffee and you will also be able to get supporter wristbands for Bristol Pride 2013 and our very limited VIP tickets along with our specially designed cotton bags and key-rings.
We have a special launch night on Sat 16 Feb from 6pm read more….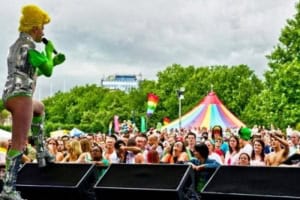 Bristol Pride 2013 Dates Announced
Planning for Bristol Pride 2013 is well underway as we gear up to be one of the largest Pride events in the country. The week-long festival will kick off on Saturday 6th of July and see a week of events ranging from comedy, theatre, film, sports and dance as well as collaborations with St Paul's Carnival and the Bristol Shakespeare Festival.
Pride Day will be on Saturday 13th July and will once again see a massive outdoor cultural music and arts festival in the heart of the city centre, along with a takeover of the O2 Academy for the official After Party fundraiser. read more….